Index to slide shows and galleries
April 10, 2011: I am temporarily making this the frontpage, since WordPress fails to create a page with the most recent posts. Please check the sidebar for the most recent posts.
I am revising this index page to be more useful by the addition of an index list.
NOTICE: we provide links to some of the images for its intrinsic public interest value. we dont want to store copied images in our server. Readers, please click on the provided link, not on the images itself.
Owners of websites write us if they don't want our links.
I have made this a separate page since it does not change much and the contents are timeless.
A list of 21 strange animals! from eyespoppig.com.No my eyes did not pop!
Here is a partial thumbnail:
The best scientific visualization images for 2011 have been announced by National Geographic. Here is one photo of carbon nanotubes forming a sort of metropolis.

Here is one of the photos from Daily Mail: Bence Mate Nature Photography.
The following thumbnail images gives you an idea which won a world poll for natural wonders!
For larger views, click on Yahoo News:New Seven wonders of the Nature.
The fact that the Philippines is the texting capital of the world may have helped a lot in the inclusion of Palawan's Underground River.
Since this is a Yahoo news item, we recommend that you save the page since it may not remain archived for so long.
Click on cio.com Tech survivors (25 years to 50 years!)
Click on Space.com albums for the many albums already published! Here is an image of an asteroid space exploration vehicle available from one of the albums:
.
Japan is back on top of the supercomputer rankings with an 8 petaflops rated monster, easily beating the former Chinese Tianhe, which was fasters (< 3 petaflops) in 2010. Fujitsu created this beast using Sparc (Scalable processor architecture) chips (which was first designed at Sun Microsystems!).
Wikipedia entry for Riken K supercomputer.
Slides of K9 dog trainers and their loyal dogs in Foreign Policy, by Rebecca Frankel:
This was followed by a second set of slides:
FP wardogs slides Part 2:
Click on Maxim's list
Click on for more photos
I finally found the source of the following orphaned photo:

That Friday March 11 8.9Mw Earthquake was a rare real big one.We are afraid such highly destructive quake will not be rare in the coming years ahead. Here is a series of space photos of the damage caused by the tsunami birthed by the quake.
Click on Christian Science Monitor Space Photos of the day Tsunamis
Here is the first image , that of Ishonomaki City, to get a perspective:
From the very tiny enterobacteria phage T4 to the ordinary hairs of the tomato seed, Popular Science offers 6 photos in a slide show of the winners.
Click on Animal Kingdom Discovery.com for stunning nature videos of wild animals sometimes preying on other animals, or being preyed upon by others!
Added March 1, 2011
A tragedy of horrific proportions, Chernobyl will only be safe to live again until 1000 years has passed for the radiation levels to go down! The Independent has presented a 39 slide show
in Chernobyl slides Here is a disturbing image of a boy victim.
[updated april 27] The Chrisitan Science Monitor presents a 25th year anniversary:
CSM photo gallery: 25th Chernobyl Anniversary
Liu Bolin art is to stand in a a particular place, have his assistants paint him and blend in very well that people will not notice if they look at the front.
Visit Liu Bolin for the slides set. Here is one saved image from the collection. Onlyt the artist's shoes are not painted!
They still pack fantastic healthy(from pics) bodies and are generally successful.
Click on Shape.com
If you love looking at planes in the sky or in the pages of the web or magazines...

CNET.com
Here is a link to the first slide:

Save a tree and be more efficient searching for photoessays published in Time.com photoessays.
The page is updated and you may get a different list each week.
Not in slides form but still good to browse. Stellas Magazine Here is a link to one of them:

Popular Science editors pick the best innovative products from the Consumer Electronics Show 2011.
Click on Best of CES 2011
Included in this list are the new Motorola products which we hope will help Motorola shine in the hotly competitive tablets and phone communications field.
Here is a pic of the Xoom tablet.
Xoom tablet
Air travel is actually the safest form of transport, except that when crashes happen they grabbed the attention of the media. Popular Mechanics presents ten of the plane crashes which actually led to safer flights.
Pictures of urban decay in Gary Indiana or the old areas of Chicago might bring tears to those pining of the simple past. But hopefully, any restoration or rebuilding of new structures will bring a rebirth of the place.
Click on Urban Decay
From the "lazy" pygmy sloth found only in an island of Panama, to the saola deer found between Laos and Vietnam, these animals have no chance against the worst animal kind(if you believe on Evolution!) on earth. The overwhelming pressures of population growth, clearing for farming and urban development have increased the chances of these unique species to disappear anytime soon!
Animals struggling for survival
.
The images are copyrighted by the BBC. So please click on the above link to view them.
ABC animal gallery
Click on ABC gallery. Here is a close up photo of the first: A scary picture of a spider!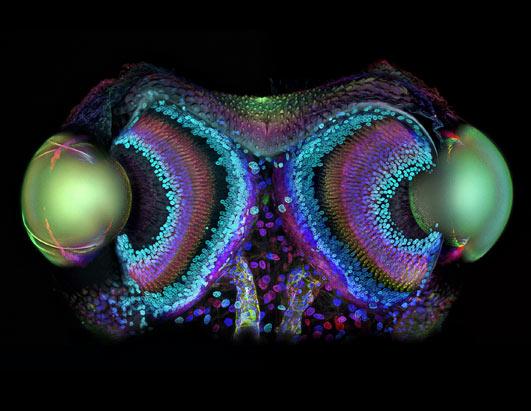 Here is the third place winner, a micro photo of a zebra fish olfactory bulbs.

Zebra fish olfactory bulbs >
For other photos in the 120(!) photo gallery visit Nikon Small World Gallery



Pop. Mechanics lists of strangest things
added Sep. 28 by ernie.



Space photos of the day

Another gallery of space photos? Why not? It makes us realize we might be special in this corner of the universe. The slides are from the Christian Science Monitor.

Christian Science Monitor Space Photos of the Day.



NASA astronomy picture of the day

It is never boring to watch a different photo in this series of astronomy photographs, some from Hubble, some from space probes, giant earth-based telescopes.
Visit NASA APOD ARCHIVE
Here is one enigmatic photo of a dark ghostly dust cloud nebula in the constellation Taurus from Hubble:
The U.S. Government most powerful computers

As befit a technological powerhouse, the U.S. government, thru its scientific research and atomic weapons establishments have procured the worlds most powerful set of supercomptuers. Visit Information Week supercomputer gallery
Perhaps way back in 2005, the Japanese NEC Earth simulator spooked the U.S. to wrest back the technological crown in supercomputing.



Worlds most beautiful campuses

Yahoo has an interesting list of the world's most beautiful college campuses. Of course in this list are perrenial favorites Stanford and Princeton but the choice for #1 might surprise you: Click on Yahoo list of most beautiful campuses.



20 weirdest fish

From the Christian Science Monitor has a goo selection of the
20 weirdest fish.
Here is the third one in the series:
10 species in dangerof extinction

The Philippine freshwater crocodile is in this list!
livescience.com top 10 species
The opulent but mysterious lives of the Clarks

I was reading about Butte, Montana, and I was amazed that one of the mine owners was one of the richest men of America and left a lot of mansions to his favorite daughter who is now 104.

Click on Huguette Clark: mysterious heiress of a mining baron Here is a pic of one of the fabulous mansion.
Ms. Clark died recently, on May 24, 2011, with not even a dime going to her nearest relatives.
msnbc:Heiress Huguette Clark's will leaves $1 million to advisers



NASA completes WISE Infrared Telescope Entire Sky Survey
With more than a million photos returned. Here is an image from a small sampling (only 8 images!) (slide show from Popular Science):
The slides may be accessed from
Popsci.com: WISE survey slides (8 photos)

Of course,visit NASA.gov: WISE telescope

Added July 31.



Gallery of Discover photos

We just don't want to direct link to some of the photos in Discover. You have to click on the links provided to enjoy the photos.

More links to follow.

Source: http://discovermagazine.com/photos



Supercomputer simulations of the Universe

From Discover, fantastic images of computer simulations of complex processes in the universe, from neutron stars to black holes:

Discover: Mar 11, 2010 Beautifully Detailed Computer Simulations
The animals in the nightmares of your mind

Cthulhu Larva (Abyssal Sea Cucumber)
Here is one strange member of the animal kingdom found in the oceans' bottom:

Lost the original link but I recall there were more than one source of the photo during that time.
Here is a link to other "scary" animals: Cracked.com Nightmarish animals.
If you want more of this due to curiousity: click on
Odee.com
Your favorite rock stars then and now.

From Freshpics. Here is one music artist, Robert Plant, from Led Zeppelin (Stairway to Heaven) who has been treated well by time.:
The same set of photos may also be viewed in
NBC Rock starts
New species of the deep in the Atlantic Ocean

Here is the first image in a set of fantastic slides on new species foun in the deep Atlantic Ocean. We wonder if they are related to our earlier link for National Geographic Deep Arctic Oceanspecies.
Here is the first image of a Gorgon head starfish.

Added July 11, 2010.
Spectacular roads of the World


Matador Trips Vol. 2
Photos of the most spectacular roads. This is Volume 2. I don't know if we have volume 1. somewhere. Here is one photo Stelvio Pass I picked from the 20. Visit the original site please.
Added July 10, 2010.
Click on the following link TheDaily Beast.com
No wonder the first country is not unexpected.
Here is a gallery of the world's tallest buildings from Telegraph.co.uk. The world's tallest
is the Burj Dubai renamed to Burj Kalifah but we show the first photo in the gallery, Taipei 101,
currently the second tallest building.
Women Technology Enterpreneurs
Here is the first(out of 14) featured woman enterpreneur in a Computer Weekly Gallery.
computer weekly: great female tenchonolgy entreprenuers.
Most beautiful castles?

Visit Castles.
My favorite is Kronborg Castle, in Helsingor, Denmark mentioned in Shakespeare's Hamlet. But there should be photos of the interior and grounds of the castles.

Tragedy of Haiti earthquake

Life, which was an excellent photojournalism monthly and is now in the web is showing:
Haiti haunting photos
added by ernie on jan 25, 2010.
Timesonline gallery of 2009 photos
13 Photographs that changed the word
Here is one famous pic of the worlds greatest scientist:
This is just one of other haunting photos from
Src:Neatorama.com This photo is one most often copied and displayed of the great scientist.
Visit the source to view the rest.
All slide shows at Eweek

From the calculators of HP to to the top Iphone apps, visit Eweek slide shows
Head over to CNN travel photo of the day when you feel the urge to visit some of the places listed.
Shocking Medical Marvels of Odddities?
Here is one tame picture showing the world's tallest man from the slide show.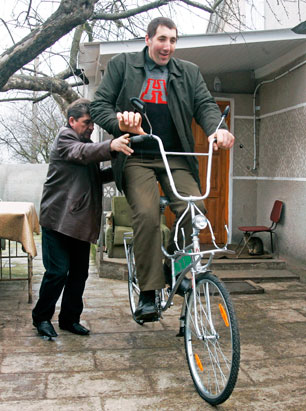 The rest of the pictures may be too gross for the sensitivities of some viewers. For those brave visit [I did! :(]
ABCnews
Added Dec.19, 2009 by epadorio.
Visit
Daily news
slides cutest animals
Here is one of them >118 pics!

I still have to view all of the slides before I tell my favorite.I don't know but I don't want to see all of the slides in one sitting!
Submitted by ernie on Nov. 7.
Ugliest animals

From the cutest to the ugliest. From the Komondor to the sphinx cat. The following daily news gallery of "ugliest" animals (we humans love to anthromorphize other creatures!) give you some of the wonderful specimens.
Here is one "ugly" animal which is cute in its own way: the star nosed mole.

Src: Dailynews gallery of "ugliest" animals
Here is an updated list of 32 ugliest animals. Included is the Phil. Tarsier found in Bohol. I wonder why it is included.
src: Daily news. updated Sep 15.
NASA's Chandra X-ray Space Observatory gallery
In photo is NGC 4697.

More stunning images from this long lived satellite from
Chandra Gallery
Month in Space

Here is the first November 2009 slide show from msnbcmedia and msn.com
msn: month in space
You can access it by viewing the url msn.com technology and science-space or at slide show
Arctic ocean yields strange creatures

Here is a strange jellyfish from the cold arctic region.

More photos at National Geographics: Arctic Ocean creatures
Images from VISTA: World's largest sky mapping telescope

Here is a spectacular image of the flame nebula in the constellation of ORION.

The rest of the photos (6 images ) may be viewed in Popular Science VISTA TELESCOPE GALLERY
The year 2009 best images in science

Also from popular science, is this gallery of 62 images in science selected by the editors of Popular Science. Here is
#12 showing off natural fireworks from the Chaiten volcano in Chile.

The Popular Science gallery may be viewed here: Popular Science Best Images in Science Gallery
Supercomputers Gallery

Here is Blue Gene. First supercomputer to break into the petaflop speed. Now at number 7 in the latest http://top500.org rankings,
The gallery of supercomputers for 2008, may be found in
Guardian U.K. Jan 3, 2008 supercomputer gallery
Incidentally the number 1 supercomputer is now a Jaguar - Cray XT5-HE Opteron Six Core 2.6 GHz at ORNL.
ALL IMAGES COPYRIGHT BY THEIR RESPECTIVE OWNERS. we provide links only for the public scientific and other interests and convenience.